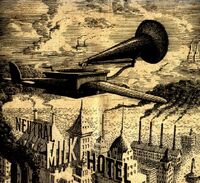 Track Listing
Edit
Personnel
Edit
Jeff Mangum – guitar, vocals, organ, floor tom, bass guitar, tape, shortwave radio, art direction
Jeremy Barnes – drums, organ
Julian Koster – Wandering Genie organ, singing saw, bowed banjo, accordion, white noise
Scott Spillane – trumpet, trombone, flugelhorn, euphonium, horn arrangements
Robert Schneider – home organ, air organ, bass, backing vocals, piano, horn arrangements
Laura Carter – zanzithophone (tracks 1, 5, 9)
Rick Benjamin – trombone (tracks 6, 9)
Marisa Bissinger – saxophone (tracks 6, 9), flugelhorn (tracks 7, 9)
James Guyatt – percussion
Michelle Anderson – Uilleann pipes (tracks 6, 10)
Chris Bilheimer – art direction
Brian Dewan – illustrations
This was Neutral Milk Hotel's final album recorded and released as a band.
The songs greatly involve the story of Anne Frank during the Holocaust.
The song "Untitled" later became known as "The Penny Arcade in California," a title given by band member Julian Koster.
Ad blocker interference detected!
Wikia is a free-to-use site that makes money from advertising. We have a modified experience for viewers using ad blockers

Wikia is not accessible if you've made further modifications. Remove the custom ad blocker rule(s) and the page will load as expected.