Song: Untitled (labeled as Tea Time)
Albums: Hype City Soundtrack, Everything Is (2011 re-release)
Year released: 1993
Tea Time is a brief 7 second-long song by Neutral Milk Hotel. It featured as a prelude to Bomb Drop (Ruby Bulbs) on Hype City Soundtrack and was later merged into the Ruby Bulbs on the 2011 re-release of Everything Is. According to Hype City Soundtrack's lyrics sheet, the female voice featured is Jill Carnes' of Thimble Circus, a fellow Elephant 6 musician.[1]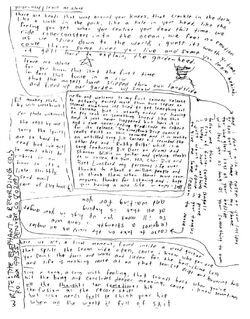 Citations
Edit
↑

'"Tea time/Bomb Drop doesn't really exist on this cassette and is in reality an untitled song Jill Carnes + i recorded the other day and "Rubby Bulbs" which is a song featuring Bill Doss on drums and Shannon Willis in guitar and yelping.' [sic]
Ad blocker interference detected!
Wikia is a free-to-use site that makes money from advertising. We have a modified experience for viewers using ad blockers

Wikia is not accessible if you've made further modifications. Remove the custom ad blocker rule(s) and the page will load as expected.